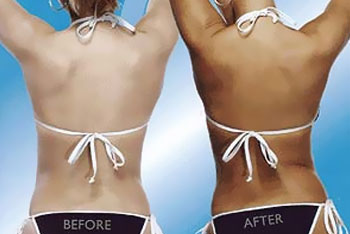 Spray Tan
Countless celebrities are using spray tan. It's no wonder more, and more people are choosing the safe and highly publicised Sienna X Spray Tan.
Sienna X is the top brand in the industry. Voted the number one slimming tan by many. The new range contains anti ageing components, including fantastic, revitalising enzymes Q10, which will eradicate spending long hours under the burning sun.
Host a 'Tanper' Party!
Bring friends together. Pop open the bubbly, and have a Sienna X Spray Tan Pamper Party! You will receive a free spray tan for hosting a 'Tanper' party (minimum of 5 paying guests).
Make your sienna x spray tan last with these tips:
Exfoliate,  prior to a spray tan ensure you exfoliate all dry areas, especially, elbows, knees, wrists, also, use a back scrub to buff up your skin.
One week before you tan, prepare your skin with plenty of moisturiser after bathing or showering.
Hair removal should be done no less than  24h beforehand, (for wax at least 48 hours beforehand).
Wear loose fitting clothing after your appointment preferably.
The day after your spray tan, ensure you moisturise your skin with a non oil based cream or lotion.
Approx 5 days later use a light exfoliator on the skin which will help the tan come off evenly, preventing those pesky patch marks!