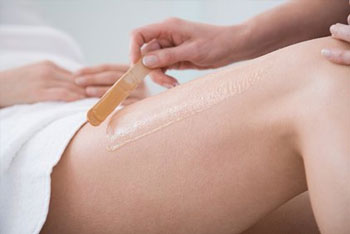 Waxing

Strike fear into those short and curlies!
Waxing treatments are non-permanent, although they lasts much longer than shaving as it removes hair from the root as opposed to shaving the top off it. Keep your skin smooth and silky to the touch, for two to eight weeks, (subject to personal hair growth pattern).
Waxing treatments have become more popular in the recent years especially as more people are having waxing treatments such as a Brazilian (Which leaves a strip of hair at the front) or Hollywood (all hair is taken off) styles done. The most popular waxing treatment to have done is leg waxing as no woman wants to endure summer with hairy legs!
Techniques differ and different waxes can be used from warm to hot. Hot wax is normally used when dealing with underarm or bikini hair as the hair is a lot more course than other parts of the body. Hair must be at least 5mm long otherwise the wax wont grip to the hair which will result in you not being able to have the treatment done. Alternatively if the hair is too long then waxing can become a lot more prolonged and painful for yourself. I recommend trimming hair with a bikini trimmer before having any waxing done. It speeds up the process and will be a lot less painful for you as it also stops hair breaking which can happen when it is too long.
Prior to waxing, most people find it preferable to shower and it is necessary to carry out a good exfoliation which helps to lift the hairs up and get rid of dead skin which ensures more effective hair removal results. For very long hair, please don't forget to TRIM it ladies! We advise those with a low pain threshold, to take a light pain reliever an hour before waxing such as a paracetamol.
Go to booking page for men's waxing quotes.
Ensure you have a warm shower and a good exfoliating scrub, before a waxing treatment. Clean skin without creams, lotions, or oils, is essential for ensuring best results.
---
Book Your Mobile Pamper Package Online Now!
---